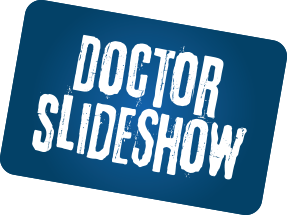 Doctor Slideshow are a post modern medicine show, featuring Slideshow Steve on vocals and stringed things and Dr Ess on percussion and harmonicas.
A truly dynamic duo, they create a collage of original songs, covers and tunes from anywhere and everywhere, on a fabulous array of musical instruments.
Contact Doctor Slideshow: We will be launching a full website in due course, but in the meantime please visit us on Facebook and Youtube, or for more information and to get on our mailing list contact us on email.
Dr Ess started out as a brass band drummer when he was twelve. He has served as a drummer and percussionist for every shade of music from classical, through jazz, rock, pop, folk and beyond.
Initially avoiding his family heritage in music hall and classical music he developed an interest in the humble harmonica. Rather than following the usual route of starting with blues harp, he first learned the difficult chromatic harmonica. He has since branched out into using diatonic, alternate tuning, bass and chord harmonicas.
In Doctor Slideshow he appears to attempt to play all these harmonicas and percussion at the same time.
In an alternate reality Dr Ess is osteopath Stephen Beaver.

Instruments played: cajon, sidekick, snare drum, foot percussion, sock cymbal, djembe, bongos, zydeco scrub board, cajun tee-fer, shakers, rattlers and rollers, birdee whistle, train whistle, chromatic harmonicas, diatonic harmonicas, harmonica stacks, contra-bass harmonica, 24 chord harmonica and… blues harp!
Slideshow Steve Van-Deller has juggled careers in music and design for more years than he cares to remember. Originally a soul bass player, he moved across to guitar and for many years aspired to be south London's answer to Steve Cropper. However he was also a closet Incredible String Band fan and this is the seed that grew into Doctor Slideshow.
Along the way Slide has played blues, folk, rockabilly, country, reggae, power pop (remember that!), world music, toyed with jazz and more recently had his own jug and bluegrass band and become a prolific songwriter.
Steve was responsible for the bands strict "no guitars" rule, though he knows he will inevitably break it.
Instruments played: mandolin, banjolin, puerto-rican cuatro, tenor banjo, tiple, baritone ukulele, charango, lap steel, all types of guitar, including tenor guitar, fife, melodica, keyboards and vocals.